About Daytona Beach
Daytona Beach is known, of course, for its beach and also for auto racing at the world famous Daytona Speedway. Speedweek is as big an event in Daytona as the Indy 500 is in Indianapolis. Besides the famous 400 and the "24 Hours at Daytona" there are many other events that draw people from across the country to Daytona Beach.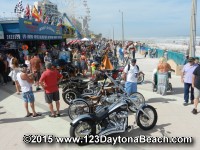 Billing itself as the "World's Largest Motorcycle Event" Bikeweek roars into Daytona every winter. Activities include motorcycle shows and exhibits, concerts, racing at Daytona International Speedway and festivities on Main Street.
Daytona Beach has taken over for Fort Lauderdale as the Florida Spring Break capitol. From the second week of March until the end of the month, thousands of college vacationers and even high school seniors gather on the beaches for a non-stop party.
Enjoy Daytona Beach
Daytona Beach's weather is comfortable year round. Temperatures here rarely drop into the 60s and usually stays well into the 70s in the winter months.
Daytona Beach is not without culture. Along with an active symphony society, the London Symphony Orchestra considers Daytona Beach to be its summer home. The annual Halifax Art Festival is held the first Saturday and Sunday in November and features the works of approximately 250 artists, live entertainment and food vendors. The two-day festival is held along historic Beach Street in downtown Daytona Beach.
Disneyworld and all its offshoot attractions are just a short drive away, but most folks do not come to Daytona Beach for wild rides, (except at the Speedway), and endless lines. Rather, they come here to recover from those and other stresses on more than 23 miles of sunny, sandy beaches.